In the midst of a global pandemic where everybody is advised to stay home as much as possible and to reduce the amount of time spent outside, and being outdoors is advised only for necessary and required purposes. Social activities such as gatherings with friends and relatives have also been greatly affecting by tight restrictions. In any case, these restrictions and guidelines are all necessary in order to prevent any outbreaks and clusters from appearing out of nowhere, unlinked infections are the most dangerous as there are no leads and connections to any source of infection to trace back to, leaving health department investigators and contact tracers with even more 'unknowns' to deal with.
As more and more people are staying home as much as possible, it is only natural that they need to enjoy some 'fresh air and be out of the house once in a while, being cooped up at home for long periods of time might not be healthy for some. So right now, regular outdoor exercise is one avenue for many people to 'escape' the confines of the home, and the sport that seems to be taking off with increasing popularity is cycling.
Even when cycling, we tend to still want to somehow stay connected to others, whether it is via a live feed of your cycling and performance stats for a serious road cyclist, or a location positioning app to broadcast your exact location to your trail riding buddies, or maybe you are just a casual rider who simply loves to post beautiful selfies of yourself and your precious ride to social media platforms, and for Singaporeans, our mobile phones are also critical in doubling up as a contact tracing device with the national Trace Together application.
So whatever your reason for lugging your latest model mobile phone around with you while riding, you need some way of attaching your phone securely to your bicycle, and this is where SP Connect products truly shine, with their vast range of products and accessories are not only manufactured with outstanding quality and materials, but they seem to have thought of almost every possible scenario and situation where you might need to securely attach your phone to.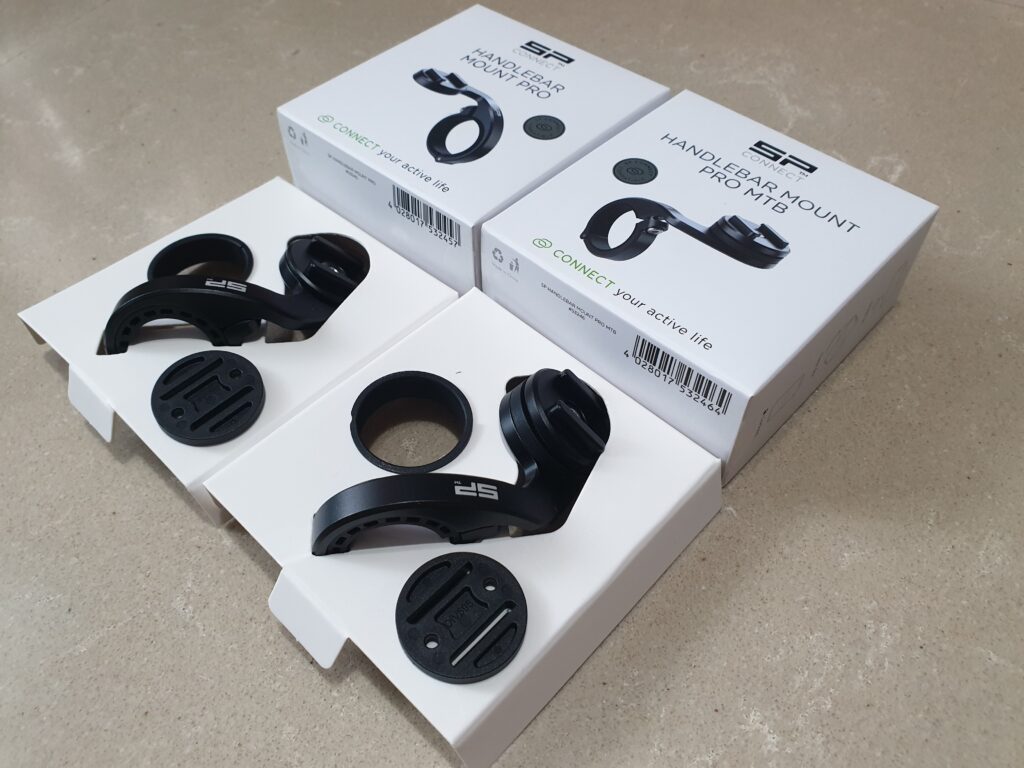 Starting with the mounting hardware for bicycles, SP Connect has a huge range of mounts available, from handlebar mounts which already come in three different versions, the Handlebar Mount Pro allows you to install it securely to either 25.4mm diameter handlebars, or to the newer version of oversized 31.8mm and 35mm diameter bars, and to protect your handlebar from mounting scratches and marks, the mount comes complete with quality plastic protectors or adapters which fit exactly around your handlebar before clamping the mount, the one-piece plastic shim for my 31.8mm drop-bar even had a tiny edge to ensure that it is properly seated between the mount and the handlebar, the clamp is also hinged which ensured a very strong and secure grip to my handlebar,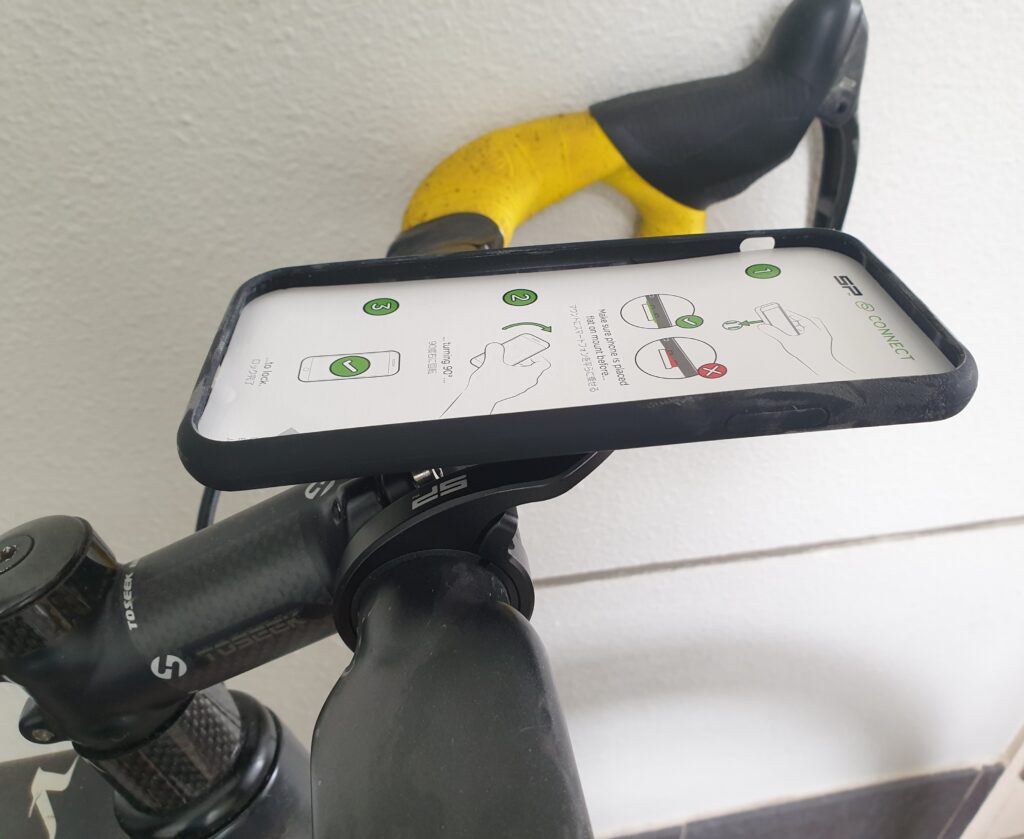 I tried to put some weight onto the mount to see if it rotated, but it didn't even move a millimeter, and the mount itself is CNC machined out of aircraft-grade aluminum and fitted with stainless steel hardware so that you won't have to worry about corrosion at all. This mount enables you to mount your phone in both portrait and landscape modes so that you can easily view your phone's screen, regardless of the app or apps that you are using, another very cool feature is that you are also able to mount an action camera below your phone so that you can save the trouble of installing another mount for your camera on your handlebar.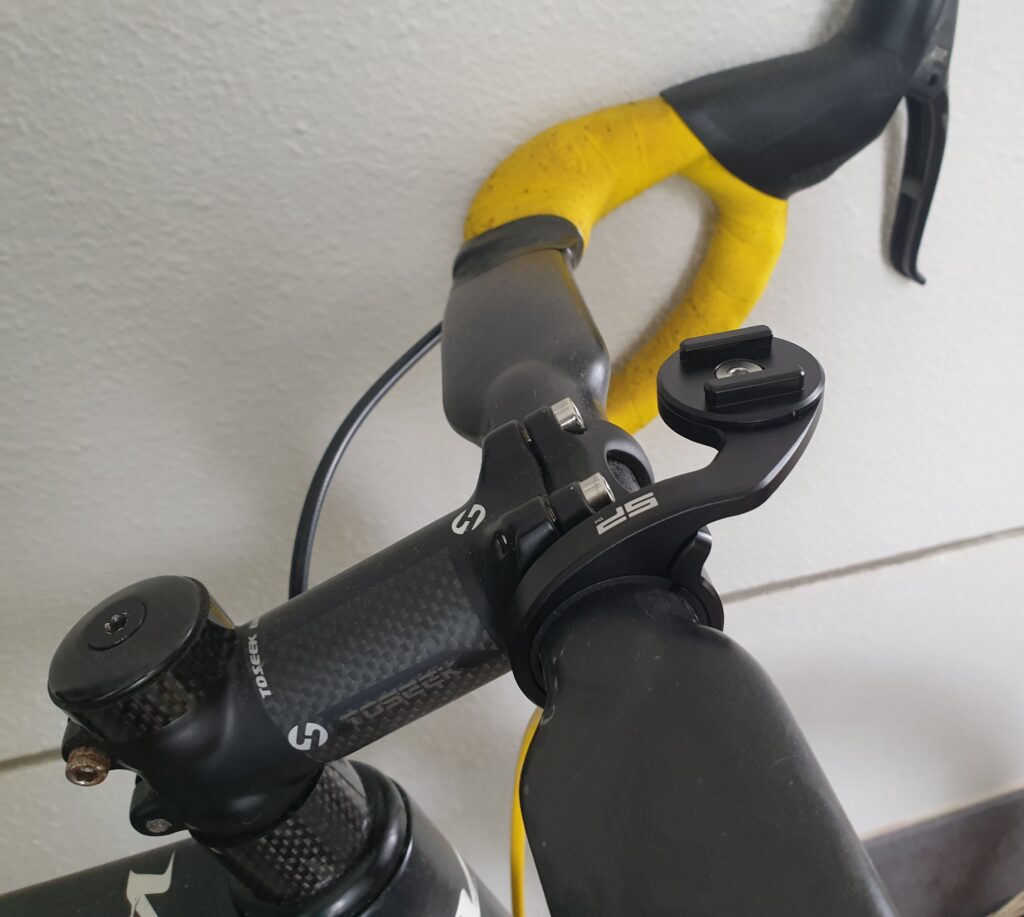 The MTB version of this pro mount has an additional shock absorber built into the mount to effectively absorb vibrations and shocks experienced while cycling off-road and minimizing those vibrations from reaching your phone and the sensitive electronic components within it. The Aero Mount Pro is suited for all the aerodynamic fans who do not want unnecessary components sticking out from their handlebars, as the carbon-reinforced and lightweight mount can be secured to the neck of the stem for a very low profile mount for your phone, and it even comes with an aerodynamically shaped cover in case the mount is not in use. Adapters for Garmin and Wahoo head units are also provided in case if you are currently using any of their cycle computers.
The best way to mount your phone will be to use a phone case for the exact model of your phone, as SP Connect has cases that fit the majority of current phone models in the market, if not, there's also an option for either a universal phone case, a universal interface which is equipped with a very strong adhesive to be pasted onto your phone directly or your phone case, there is also a Universal Phone Clamp which tightly clamps onto the sides of your phone to hold it in place while mounted to your bike. Apart from bicycle rides, SP Connect also has options for use with motorcycles and cars as well as accessories for everyday use.
Here are some detailed photos of their mounts: