With the country going under Phase 2 due to the resurgence of cases, one's heart sinks. But fear not, here are some stupendous tracks to get you motivated until the heightened alert state is over.
Participants from #TOGOAROUND have shared 4 of the most breathtaking and worthwhile cycling routes in Singapore.
So, gear yourself up and head on over to experience them once Phase 2 is over! If you can't wait to try these routes out, make sure to abide by the new heightened social distancing measures.
Aileen's Route
Aileen's route features the East side of Singapore. It starts from Bishan-Ang Mo Kio Park and goes around the entire eastern part of the country. This mostly flat route is on the Park Connector Network (PCN). Riders on this route would not face many difficulties and will be able to have a pleasant ride. You get to explore the East side of Singapore too!
Punggol Route
This Punggol route shared by Wilson is a cycling path perfect for both beginners and experienced riders. Moreover, it is filled with not only luscious greeneries but unique urban buildings as well! Riders wanting to try out this route can start from either SK, Punggol, or HG residents.
East Loop Route
The East Loop Route is one of the most popular routes for cyclists in Singapore. It is one of Tyler's favorite routes as well. According to Tyler, this route is 95% on the Park Connector Network (PCN). It is very safe for people who like to try out long distances but don't want to go on the road. You can easily park hop while feeling the cool breeze as you navigate your way on this route.
Highlights:
PCN, beautiful seaside view
Difficulty: 2/5
Suitable for children: Yes
Distance of route: 59km
Maggie's 100km Route
If you want to cycle around a whole country, you should try out Maggie's 100 km Route. It is not exactly around the perimeter of Singapore, but it's close. Maggie shared that this route is easy and friendly as there are pit stops for water breaks. We recommend setting off bright and early, that way you can enjoy pit stops at popular eateries that are along the way.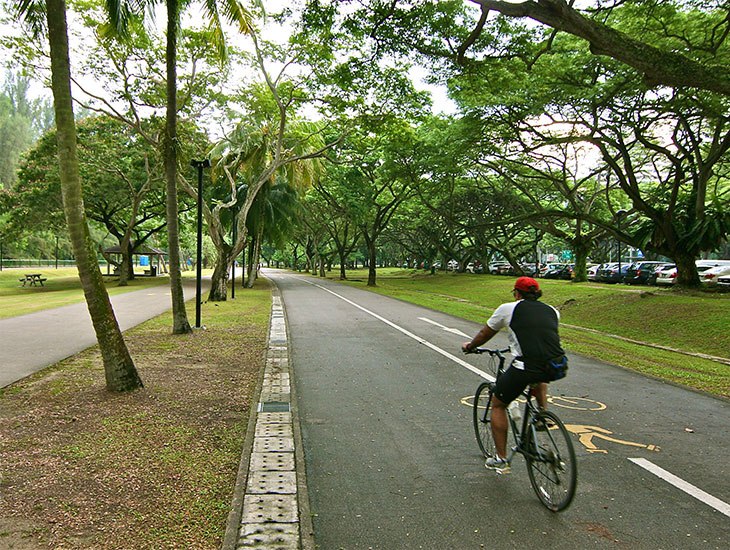 Highlights:
Landscaped gardens, pathways
Difficulty: 3/5
Suitable for children: No
Distance of route: 100km
A big hand of applause to all Singapore's #TOGOAROUND Challenge winners! Wish to join in on the fun? Cycle one of the winners' routes and you get to unlock the Round and Round Achievement!
What's more? There are prizes from Rudy Project SG to be won! All you have to do is to be the first 5 to complete the #TOGOWBD Bingo Card and the prize is all yours.