Fruition of the #TakeCharge Vision
Climate change is an existential threat of our times. The Earth's carbon emissions more than doubled between 2000 and 2020, compared to the preceding decade. Concerted efforts must be made towards sustainable development – this includes building an inclusive, sustainable and resilient future for our people and nation.
Senoko Energy is leading the charge towards achieving net zero emissions, in tandem with The Singapore Green Plan. Cycle for Change is a launchpad to amplify Senoko Energy's #TakeCharge initiative that reflects their ongoing endeavor in promoting energy efficiency and reducing carbon emissions through a raft of sustainable habits across households and corporates. While the road to zero carbon emissions is not easy, #CycleForChange helps demonstrate how conscious decisions of making lifestyle and business changes can lead us on a path to significant emissions reduction for the future generations.
Every kilometer clocked at #CycleForChange helped save a little bit of the Earth for a greener future.  Furthermore, Senoko Energy and T-RECs.ai have pledged to offset additional 3 times carbon emissions through the purchase of 1,046 Renewable Energy Certificates (REC) to support local solar generation – which offsets 426,768kg of CO2!
Highlights of #CycleForChange
Congratulations to all the participants who completed Senoko Energy's #CycleForChange challenge and #TakeCharge of their sustainability actions towards climate protection! Every ride you cycled made a real impact. Kudos to those who earned the finisher achievement and thank you to all who participated and purchased any rewards during the entire event.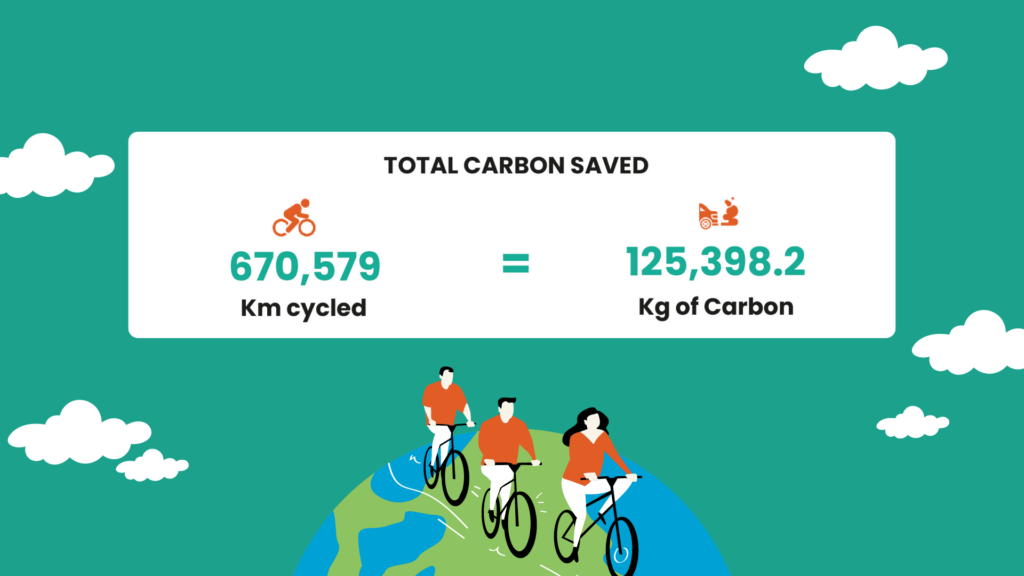 We've managed to cycle a total of 670,529 km as a community! To help you visualise the monumental effort that you have made during the challenge, let's put planetary objects to compare, you could have completed the trip around Saturn's rings twice and then some. And while you made that trip around Saturn's rings on your bike, you managed to save 125,398 kg of Carbon Dioxide by cycling instead of driving! That's just out of this world, literally.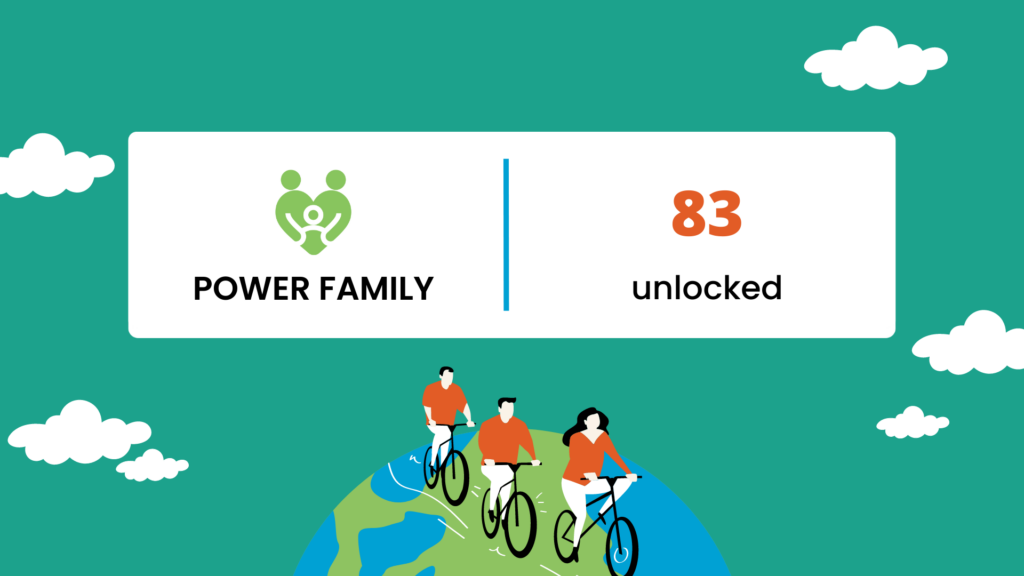 When we say children have endless pits of energy, we're not kidding! Imagine leaving your child at home and cooping them up in such a little space and then wondering why they're so mischievous. They need space to burn all that energy, and some of you knew just what to do! 83 participants brought along their children on their rides and unlocked the "Power Family" achievement. What better way to give your child exercise and an outlet to help them be as energetic as possible than to let them join you on your cycling escapades?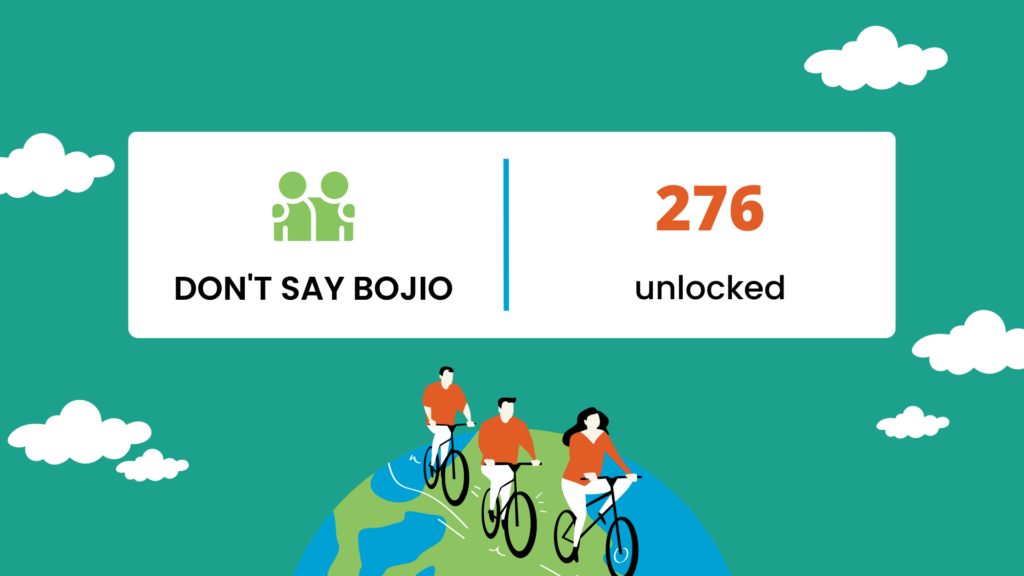 Have you ever scrolled through your social media feed just to see your friends having fun without you, so you feel a little bit left out? If not you're lucky but most of us do go through that sometimes so we want to applaud those who invited their friends to join this challenge with them to at least make your friends feel like they're appreciated. 276 participants sent their referral code to their friends to unlock the "Don't Say Bojio" achievement, now when they don't join you, they really don't have a reason to say 'Bojio'!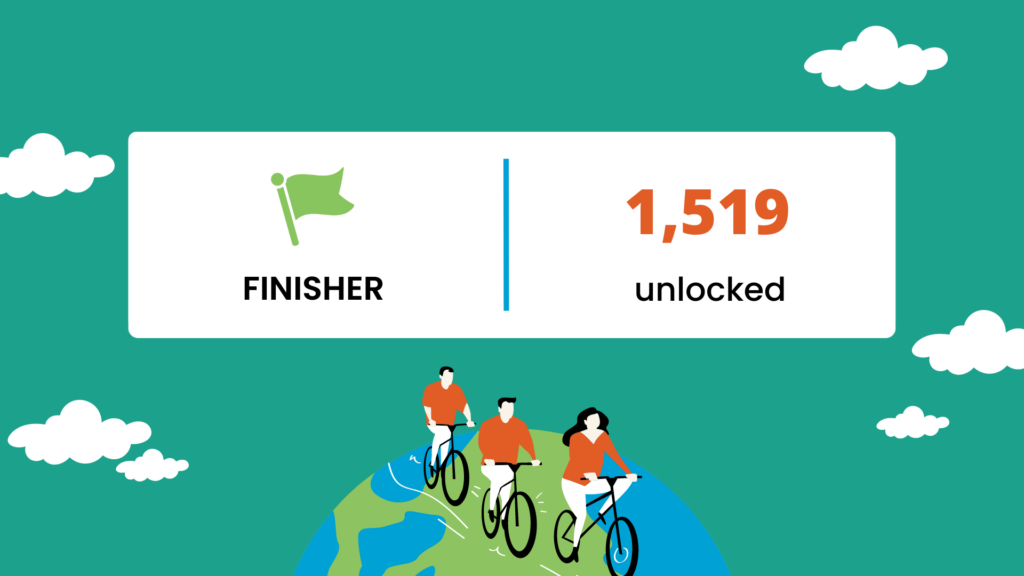 We've got a good percentage of participants who managed to take on the challenge and complete it successfully. 66% of you, 1,519 participants, were able to complete the 50 km to be a finisher in the event. We were mildly surprised to see so many participants finishing this challenge and we can call this event quite successful for those who took part.
The Elite Club
Now let's talk about those who tried their best to be the best and ended up the best.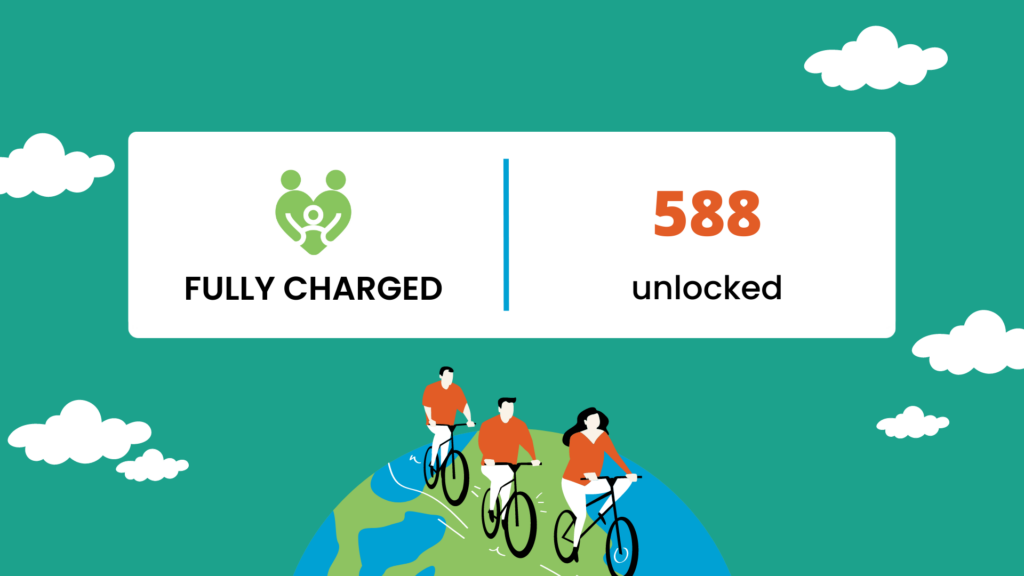 The feeling of pure teamwork is something little can replace and not many have achieved. But when you've ever experienced it you feel like you can do anything with your people and you can rely on them for anything. Well, there are a few who have achieved that status during this challenge. 588 participants together with their teams have managed to clock in at least 250 km in the entire event to unlock the "Fully Charged" achievement. Are you one of those who can work together in a team?
Being able to complete a task, especially something you feel is difficult makes you feel satisfied that you were able to overcome the challenge. But this is not the case for the people who managed to unlock the "High Voltage" achievement, these 250 participants managed to complete the entire challenge within 3 days! Imagine finishing something that was meant to take at least a couple of weeks in a fraction of the time, we bet this challenge wasn't really a challenge for you guys!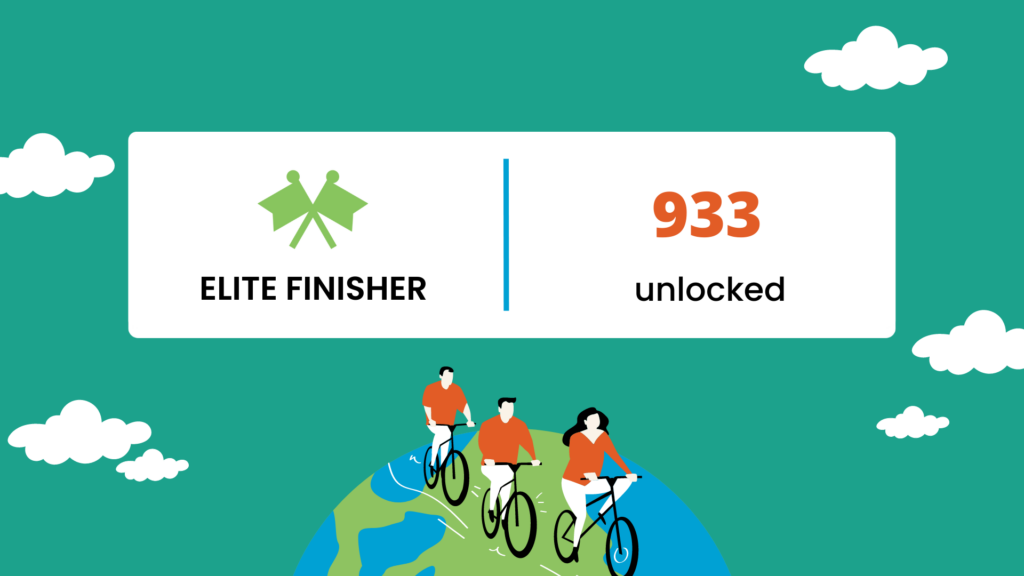 We've made the entire challenge so that it can cater to all generations and types of people, so we set a finisher distance which can be challenging to some people. But so many of you smashed that distance by going beyond the distance by so much! 933 participants managed to cycle over 250 km which is five times the finisher distance to unlock the "Elite Finisher" achievement. You are really some high achievers and the finisher distance was more of a minimum distance.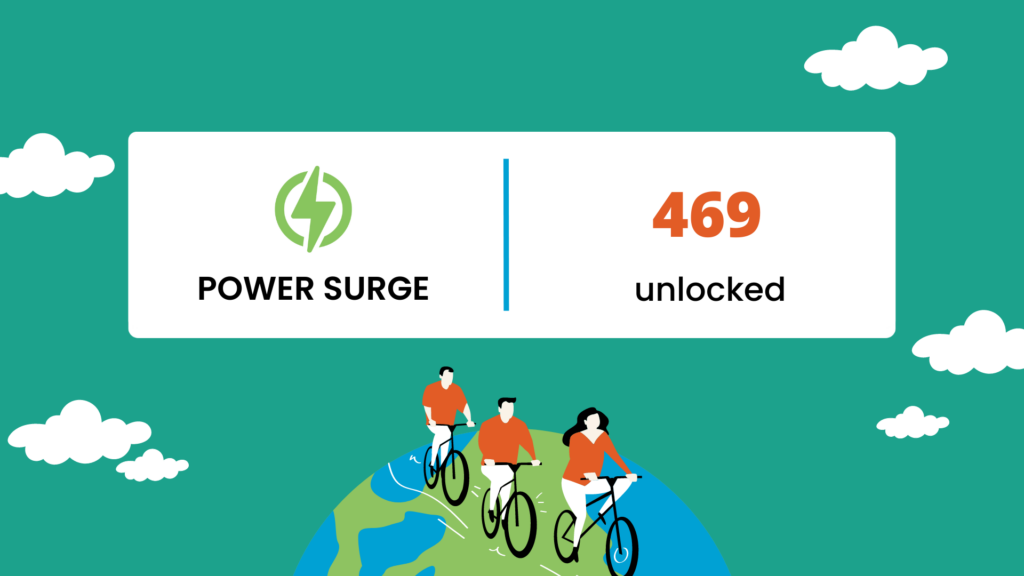 This is starting to get crazy, you do know we set a finisher distance of 50 km right? And we do acknowledge those who want to go a little further by giving them the "Elite Finisher" achievement. But to go ten times the finisher distance? I guess we asked what you were capable of and you really showed us. 469 participants managed to cycle at least 500 km during the length of the event to unlock the "Power Surge" achievement. We were not expecting so many of you to unlock this achievement, you guys are really 'bikeaholics'.

To appreciate the effort that went into the #CycleForChange challenge, the participants who managed to achieve milestones during the challenge like "Top 3 Elite Finishers", "Top Power Ranking Team (Corporate)", "Top Power Ranking Team (Interest)", and "Top 3 Family Teams" were given prizes such as one-year supply of free green energy under Senoko Energy's  LifeGreen24 plan, Renewable Energy Certificates (RECs), and Garmin smartwatches.
The #TakeCharge Journey Continues
Our battle against climate change is a journey that can be achieved as a collective. Let us continue to #TakeCharge and adopt greener commuting methods that save our Mother Earth while also promoting healthier living habits. The key to a healthier and safer future is a sustainable lifestyle!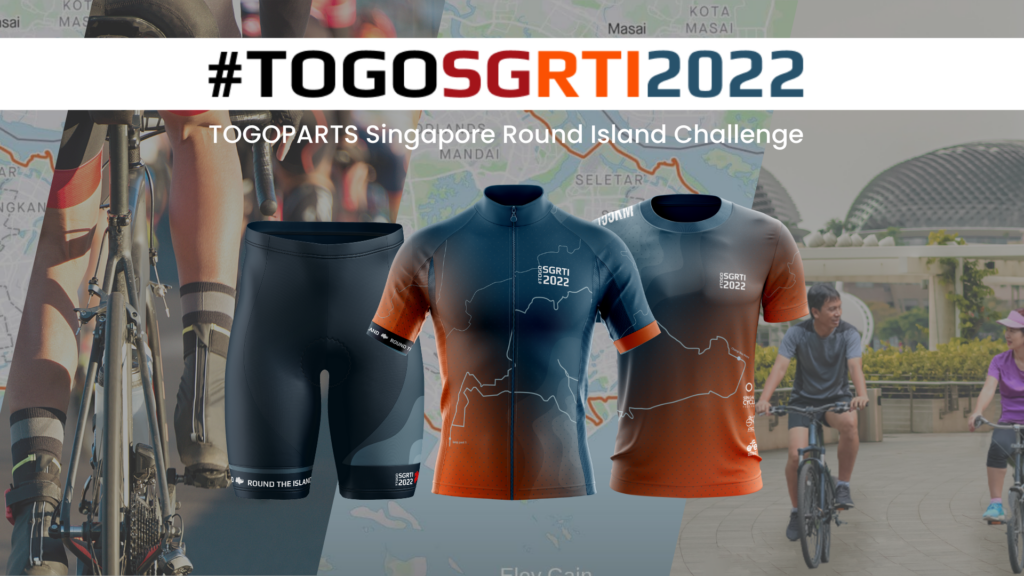 If you're truly a 'bikeaholic' you're definitely not satisfied with one event right? Especially one that only spans a few weeks. Join us at the #TOGORIDE2022, our annual year-long event and unlock even more achievements and seasonal rewards here.