In honor of the nation's 58th Malaysia Day, the #TOGOMY58 challenge was held to rally the community through sport. Here are 8 interesting things you should know about the 58th Malaysia Day Challenge.
#1 – New record set for the annual Malaysia Day Challenge! 212,529 KM!

Participants of #TOGOMY58 have set an unprecedented record this year. Breaking the 200k mark with a total of 212,529KM clocked during the challenge period. 1177 participants signed up to cover a total of 58,000km in celebration of the 58th Malaysia Day.
More than half of the participants completed the challenge by clocking in almost four times more than the initial target of 58,000km. With that distance, one can travel more than 70 times to and fro Thailand from Johor!
#2 – The Strongest State goes to Johor!
366 participants joined their states and unlocked the Pencabar Negeri achievement. Out of all the states, Johor emerged as our first-ever Malaysia's State Champion! 83 participants, the proud representatives of Johor are the champions with the highest Total Average Distance of 313.08km clocked during the challenge period. Together, they've accumulated a jaw-dropping 21915.6km in 3 weeks!
#3 – 113 participants unlocked The Randonneur achievement!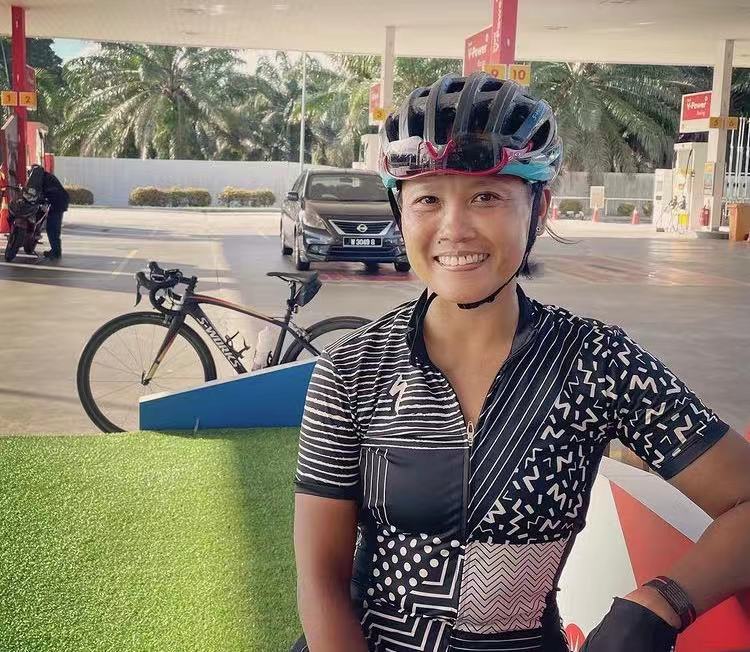 Hats off to all the Randonneur achievers of #TOGOMY58, 558km may not seem like much, but make no mistake, 558km is no small feat. One could trash the bus ticket and get a return trip from Johor to Malacca twice with 126km to spare.
One of our incredible Randonneurs and the Top Female of #TOGOMY58 is Mariana. Mariana was elated that all of us gathered to celebrate 58 years of establishment through sports. "I find the challenge this year rather interesting. As an avid cyclist, I prefer to clock my mileage outdoor rather than indoor. As soon as the restrictions were lifted, I was out there pedaling and enjoying the outdoors."
Another inspiring Randonneur, kwchng, shared that the Togoparts platform enables cyclists to meet fellow enthusiasts from all around the world. Challenges such as #TOGOMY58 make cycling more interesting and it provides achievements for us to accomplish.
"It's all about challenging yourself and pushing yourself to be better. Kudos to TOGOPARTS and all fellow cyclists. Let's ride on and keep the wheels spinning."
#4 – 158 KM can be clocked in a single session!
48 participants have been bestowed the title, "Ultra Cyclist" by clocking more than 158km in a single session during the challenge. The fastest cyclist to complete 158km is Siwatoni. He cycled a total of 187.5km non-stop in under 6 hours. What's more, Siwatoni is the Top 2 of #TOGOMY58. He clocked in 2,306.8km during the challenge period. This is a testament to how we can achieve anything if we were to push our limits and believe in ourselves.
"If I Can Why Not, Bicycling Means Simplicity and Simplicity Means Happiness" –Siwatoni
#5 – The longest distance covered in a single riding session was 315.7 km!
Alvin is not only the top achiever of #TOGOMY58 but also the rider who clocked in the longest distance in a single sitting. He clocked 1,206.9km in only 20 rides and covered more than 315km in a single ride during the challenge. Alvin started his journey at 5 am and ended at 6.51 pm; spending a total of 13 h 51 m to complete his ride for the day.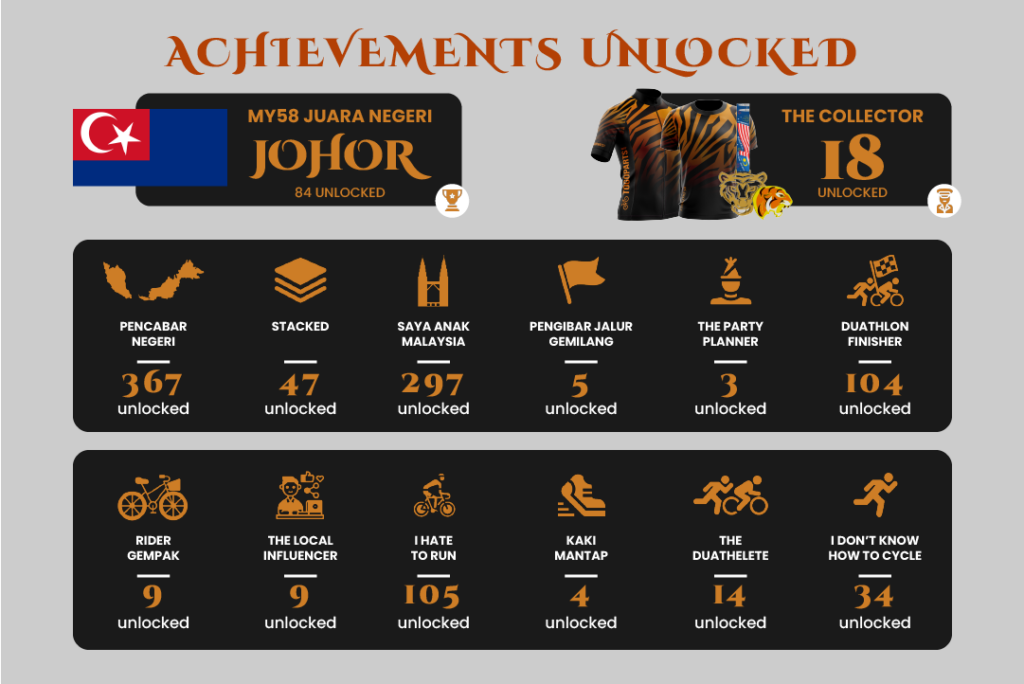 #6 – The Ultra-Runner of #TOGOMY58 is kanesrau!
Kanesrau, the only participant that unlocked the Ultra Runner of INSANEEEEE difficulty. On the day before Malaysia Day, Kanesrau ran a total of 61.4km in a single session. The distance run by him is directly equivalent to more than 150 rounds on a 400m running track. Other than this, Kanesrau managed to unlock 6 achievements in only 5 activities and the total distance clocked by him was 281.8km!
#7 – The top male finisher clocked more than 2,800 KM in 3 weeks!
Danny is not only the top on the leaderboard but also the participant who managed to unlock the most achievements in #TOGOMY58! This awe-inspiring man unlocked a total of 15 achievements and was the Top 1 in his first challenge with us.
Danny shared that he was once obese; weighing 112kg two years ago. "I started to exercise to lose weight by walking around the neighborhood. When I managed to achieve 90kg, I started cycling." Since then, he never stopped. Now, Danny weighs around 68kg and is looking fine.
"To everyone out there, I hope they will start to exercise and keep on exercising to stay healthy. I can do it, everybody can do it. The keyword is persevering. Stay safe and stay healthy guys!"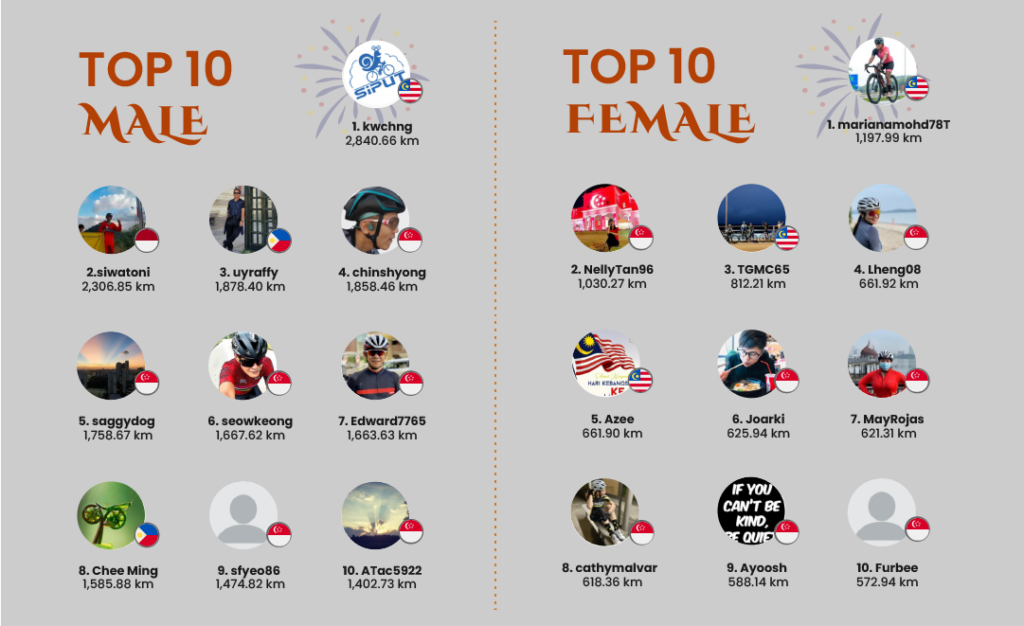 #8 – 56 participants clocked in more than 700km in 3 weeks!
700km may seem to be not that great of a distance, but one can travel from Johor to George Town, Penang with 700km. That's 56 trips from one end of the peninsular to the other end in just a 3 weeks time frame! It is evident how tough our participants can be, physically and mentally. Pushing ahead while celebrating the 58th Malaysia Day together.
That's a wrap for The 58th Malaysia Day Challenge, #TOGOMY58. Didn't get to join or haven't had enough? No Worries! Sign-ups for #TOGOIDN28 opens in 7 days (01 October 2021).
In the meanwhile, join our year-long cycling challenge, #TOGORide2021, and get your limited edition commemorative 2021 #CYCLODARITY Tee.