In commemoration of their 45th Anniversary, the Community Sports Clubs (CSCs) have organized a Virtual Sports Event, #Sweat2gether #Stay2gether; also known as #CSC45.
Despite the Covid-19 pandemic, the participants of #CSC45 completed the challenge with flying colors. 82% of our participants are Finishers that have recorded at least 45km during the challenge period.
Together,  1225 participants clocked in an astounding 501,936km in two months. That's more than half a million kilometers in only 60 days! Furthermore, a total of 720 participants or percentage-wise, 59% of the participant signed up for The Community Sports Club by the end of the challenge.
Excited to know more? I know I am! Let's get into all the fun and interesting facts about the #CSC45 challenge.
Achieve the Impossible? That's right up their alley!
Introducing 139 All-Rounders of the challenge, they have recorded a combination of 100km of walking, cycling, AND running! If we throw in a climbing challenge, it'll be a sure bet they're hanging somewhere.
Not forgetting our amazing 393 Randonneur Finishers! 393 of them have either cycle, run, or walk more than 450km during the challenge. That's equivalent to more than 1800 times up and down a football field.
What's more amazing than 450km? The answer is 999km! Almost 1000km may seem like an impossible feat to achieve within 30 days, but to these 139 Juggernauts, it's a piece of cake. 139 of them completed 999km of cycling, running, or walking during the challenge period and unlocked the INSANEEEEE level achievement, The Juggernaut.
All We Need is Love
Participants of #CSC45 have shown love in different ways. Some chose to convey it through colors, some donate, and some contribute with energy.
64 participants unlocked the Lion's Pride achievement by showing their love for the country through dressing up in Red and White color combinations. They recorded their activity and shared their love via social media.
Whereas 87 of our creative participants projected love through their pictures. They shared a picture of a place of interest in their neighborhood and unlocked the My Backyard achievement.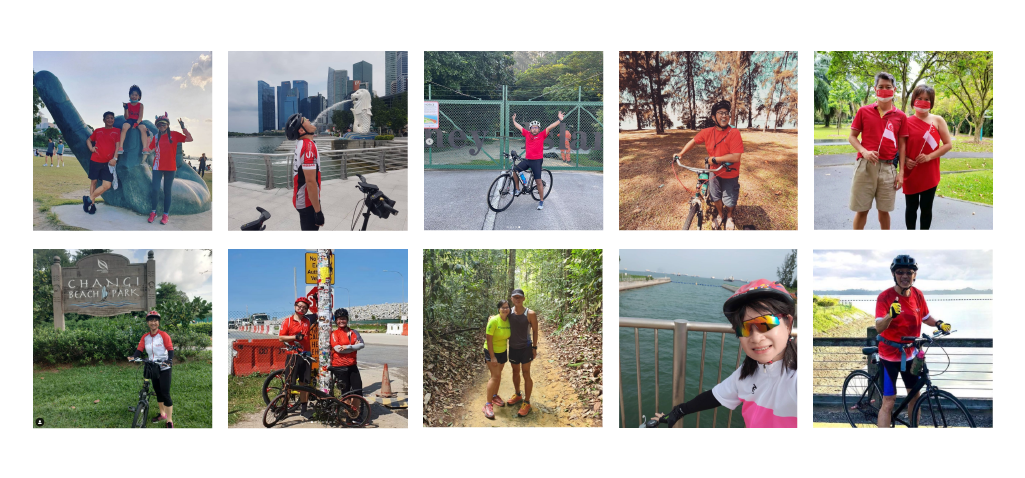 Forget Me Not achievement unlockers, we have always kept you in mind. 48 memorable participants showed love and kindness by donating to help the beneficiaries under the President's Challenge.
Shout out to all the patriotic and harmonious participants. All of you have done us proud. The Patriot achievement was unlocked by 150 participants while the Racial Harmony achievement was unlocked by 126 participants.
Three Cheers for the Top Walking, Running, and Cycling CSC!
The 29-members Toa Payoh East Community Sports Club is crowned the Top Walking CSC with the highest average walking distance. As for the title of Top Running CSC, it goes to the 39-members Tampines Central Community Sports Club. Last but not least, the Top Cycling CSC goes to the 1-member Joo Chiat Community Sports Club. Triton single-handedly clocked in more than 1400km and won the title of Top Cycling CSC for his sports club.
No Pain No Gain? Yes, indeed.
Do we need rest days? I don't know about you but these 154 participants sure don't. They have unlocked the No Rest Day achievement by recorded at least 4.5km with cycling, running, and walking EVERY DAY for 7 days straight. Wowee!
When asked, "Would you like pain for breakfast?". 16 of #CSC45 participants answered, "Sign me up!". These participants are certainly built differently. They unlocked the I Eat Pain For Breakfast achievement by running 45km under 6 hours in a SINGLE session!
None of us is as strong as all of us
As Hellen Keller once said, "Alone, we can do so little; together, we can do so much."
This spirit can be seen in 122 teams that have proven that 2gether We Can! 122 teams consisting of 588 participants accumulated a total of 45km as a team and have clocked more than 5500kms during the challenge period!
What's more impressive? 89 out of the 122 teams managed to hit a total of 450km with cycling, running, or walking by the end of the challenge and unlocked The Dream Team achievement! Teamwork makes the dream work indeed.
Want to experience the rush and the sense of achievement once more? #TOGOMY58 is the answer! Join the ongoing challenge and get to celebrate the joyous 58th Malaysia Day by riding or running alongside your Malaysian friends!
Don't miss out on #TOGOMY58 Event-Exclusive Pin, Medal, Tee, and Jersey too! Registration ends on 13 September 2021 (23:59).