Fact #1 – For every 10 participants, 7 completed the challenge!
524 out of 763 participants managed to clock in 63km before the challenge ended and celebrated the 2021 World Bicycle Day on their bikes. Percentage-wise, that's a 69% finish rate!
Moreover, an astounding record of 4,253 rides was clocked in during the challenge. There are no words to describe how incredible our #TOGOWBD participants are.
Fact #2 – 180 participants celebrated World Bicycle Day on their bikes!
What better way to celebrate World Bicycle Day than, literally, on a bike! 180 participants commemorated World Bicycle Day whilst unlocking the B-Day achievement by cycling a minimum of 3.6 km on 3 June 2021. There is nothing better than to pay tribute to the bicycle and the many benefits it brings to society on World Bicycle Day itself.
Fact #3 – 13 Bragging Rights achievement and 169 The Announcer achievement unlocked!
169 of our #TOGOWBD participants unlocked their "The Announcer" achievement by posting their photo on social media using the #TOGOWBD Frames while 13 participants received their "Bragging Rights" achievement by showing off their two-wheeler on Togoparts' Rides Section.
We are so proud of our participants as they put in a lot of effort in showing people around the world the uniqueness of a bicycle and promoting it as a simple, sustainable, fun, and reliable means of transportation.
Fact #4 – There are 5 Randonneur Finishers in #TOGOWBD!
1360km in 3 weeks seems impossible, but these 5 impressive participants did it! Seowkeong, Uyraffy, Goliath77, Lizardonaspire, and Sbono cycled more than the required KMs and unlocked the Randonneur Finishers Achievement of #TOGOWBD.
Together, they peddled a total distance of 7875.2km. That's 3 round trips from Singapore to Thailand with more than 1400km to spare! Who needs cars and airplanes, just hop on one of their bikes and they'll get you to your destination in no time.
Fact #5 – 61 participants completed the challenge on the FIRST DAY!
Who are these 61 participants? They are The Speedsters! A total of 61 participants speedily completed the #TOGOWBD challenge on the first day. All of them clocked in the 63 km Finisher distance within the first 24 hours of the challenge and unlocked The Speedster achievement.
"It is only our dedication towards our passion that distinguishes a champion from the crowd." – Abhijit Naskar. Job well done, our champions.
Fact #6 – The most outdoor distance clocked by a team was 1,601.11km!
Some would argue that a bicycle is only a form of transport to get from A to B, but that is not the case for Team GMTM. For the 4 members of Team GMTM, biking is a form of entertainment, a tool to freedom, and an outlet of expression.
Joek, Edwincyl, Johntan55, and Gidmiester clocked in a whopping 1601.11km as a team and unlocked the #TOGOWBD Dream Team (Outdoor) achievement. During the challenge, they rode a total of 40 delightful rides. It goes to show that cycling provides comfort even during the hardest times.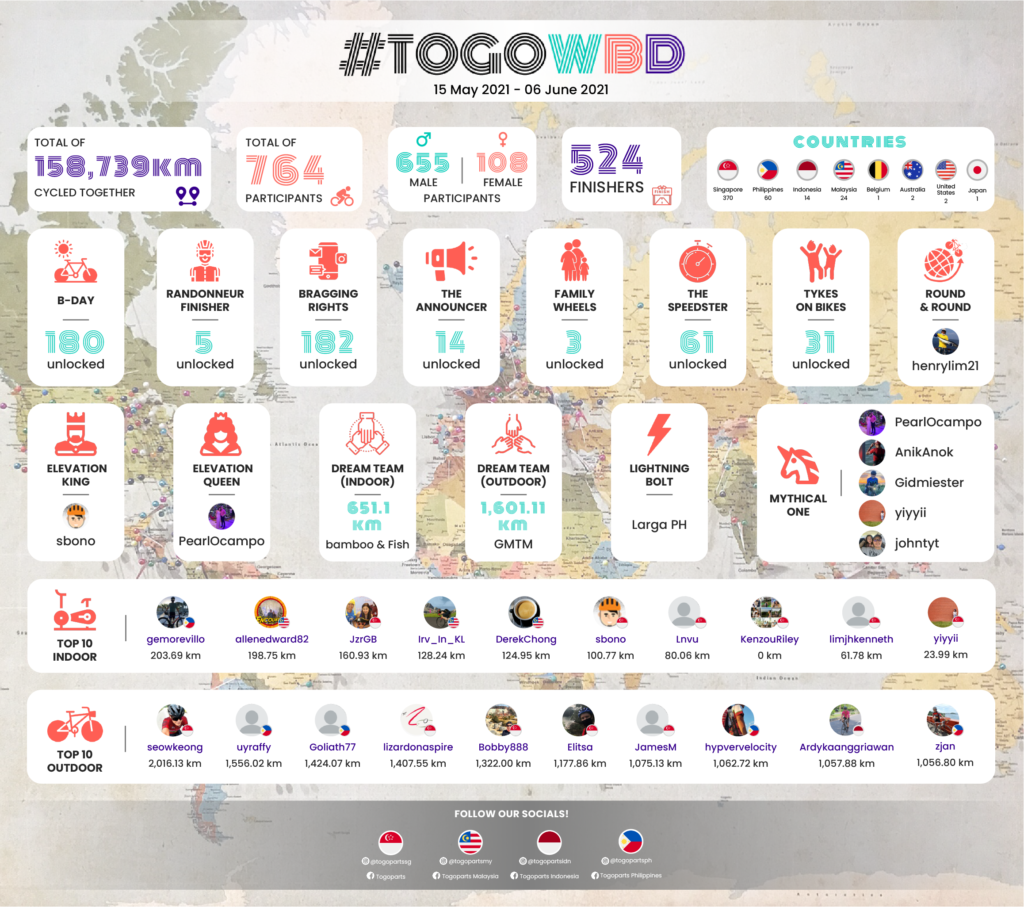 Fact #7 – The most indoor distance cycled by a team was 651.19km!
The Dream Team (Indoor) goes to Team Bamboo & Fish! Yiyyii and Bbull cycled the most indoor distance as a team during the challenge. The distance clocked in by this dynamic duo is enough to cover 5 times around Singapore. 651.19km by only 2 participants in 3 weeks, what an exceptional accomplishment.
Fact #8 – Sbono and PearlOcampo were crowned King and Queen of Elevation!
All hail the King and Queens of Elevation. Sbono and PearlOcampo recorded the most elevation during the challenge with 8,499.0m and 5,363.1 m elevation respectively! Going on a hilly ride is no child's play, kudos to Sbono and PearlOcampo for this amazing feat.

Fact #9 – 31 kids clocked in 3.6km and obtained the Junior Finisher Medal!
31 children aged 14 and below clocked in 3.6km and more in the #TOGOWBD challenge! They were awarded the exclusive Junior Finisher Medal while their parents unlocked the Tykes on Bikes achievement!
Fact #10 – Team Large PH from The Philippines was the first team to hit 1000km!
Props to Team Larga PH for unlocking the Lightning Bolt achievement! AnikAnok, Remife, Leigh91, AnaAlano, and Maglaizapl clocked in more than 1000km and became the Lightning Bolt bearers in #TOGOWBD.
1000km may seem like no big deal but imagine going 2500 rounds on a 400m running track. Phew, talk about dedication and passion. Once again, way to go Team Larga PH!
Cheers to those who completed the challenge despite quarantine restrictions and also to those who couldn't finish in time but had fun!
Besides, check out the testimonials from other participants, and don't forget to download the e-bib for #TOGOWBD from the leaderboard.
Missed out on the #TOGOWBD challenge? Fear not, registrations for #TOGOPH123 are still open! Challenge starts on 12 June 2021.