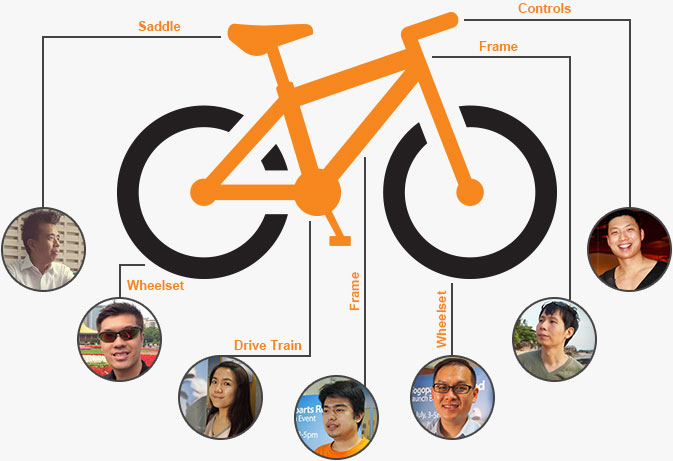 Brian Ong - Head of Ops
Feeling every bump along the way and shifting the company towards a desired direction in a synchronised manner with the rest of the team through the gentle shift of weight, Brian is the saddle on which the rider rest his bum on. Traditionally old school like a good leather saddle, he gets more seasoned and comfortable with every ride.
Gerald Yong - Senior Account Executive
You might have met him when you were at the bike shop recently. His smile and enthusiasm for the bike industry is infectious. Gerald is keeping the company rolling along at quite a respectable pace with his constant hunger for growth (and food)
Serena Leong - Admin Ops Executive
The voice that you are most likely to hear when you call us over the telephone is hers. Serena has her dainty but firm hands on the daily operations of the company. She is part of the drivetrain of the company and is always keeping everything on track without skipping a beat.
Paul Reyes - Web Developer
Love our fancy dandy App? Impressed with the intuitive user interface? This soft spoken dude is always busily tapping away on his keyboard just to bring these lovely experiences to you. Newly married and full of vigour, you can expect more good stuff from Paul.
Kelvin Teo - Corporate Account Manager
Getting a good grip of what's ahead is something that is second nature to Kelvin. Innovative marketing strategies, skilful presentations and accurate statistics reports are all part of a day's work.
Charlie Tan - Tech Director
Eyes on the screen and ever ready to squash a bug in the system, Charlie is essentially, the frame of which the entire machine is built upon. All that you see on your screen right now is a product of his keen ability to infuse technical coding skills with a holistic understanding of the consumer mind.
Evan Lee - CEO
Evan is the man who started it all with a flash of inspiration one humid afternoon while cycling with his mates. Evan is the handlebar, brake lever and shifters of Togoparts. He had skilfully steered the company towards significant growth over the past 15 years.