Bike Profile: Da Bomb Accelerates me out of corners like I'm on a 2-stroke >

Stiffler's

Da Bomb Accelerates me out of corners like I'm on a 2-stroke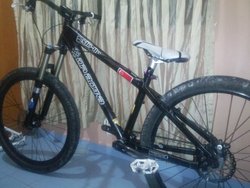 Weight: N.A
Date Setup: 7th Jul 2013
Price: N.A
Website: N.A
With Owner? Yes
Da Bomb Accelerates me out of corners like I'm on a 2-stroke 's Description:
Da Bomb Xlr8r frame, pronounced as accelerator. Sweet stiff frame. Still using 9mm QR front amd 10mm QR rear but not a problem. Frame replaced my trusty old Raleigh frame, so everything was transferred over.

A good song to describe the bike would be Young Folks by Peter, Bjorn and Jon? Don't really remember the band name.